Occasionally we have adult cats available who are retired from breeding or showing.

Currently Available:

"Missy"
Black & White, Blue-Eyed Female
7 years old



Missy is a Japanese Bobtail who ended up in a shelter through no fault of her own. We think she is around 7. Missy is very sweet, loves to sit on your lap and cuddle. Missy tolerates the other cats, but they tend to pick on her. She could be an only cat, or could live with another cat if it was the right match. She is fine with the dog.

She has a "love bite" problem--when she gets very happy, she tends to love bite, and she doesn't control the pressure very well, so they tend to hurt! We have been working with her on that, and she is getting better, but because of this she shouldn't be around younger children. Older children and teens that can understand how to apply behavior modification to help her get over this would be OK. She has never broken the skin, and she doesn't bite in anger or fear--just in cases where she is getting petted and gets a little too happy.

Missy needs and deserves a permanent home where she can be loved and cared for. She's had a tough time in the recent past. If you are interested in giving Missy a forever home, please contact bobtails@janipurr.com

GC Ginchika Very Fine Dilemma, DM
"Dilly"
Silver Torbie and White Spayed Female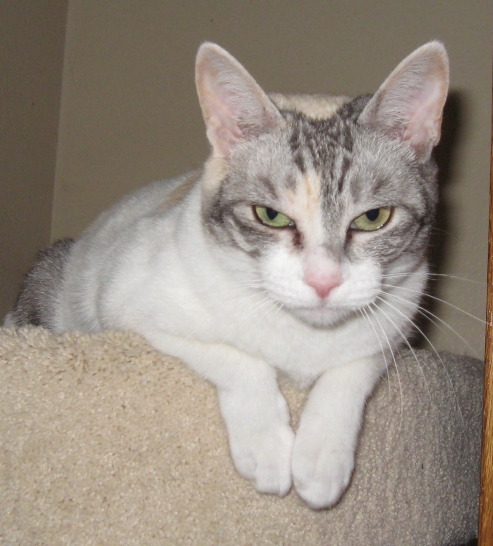 "Dilly" was a good mom and show cat. and was retired last year and placed in a home with an older lady. She was doing fine, and was well liked, until her new owner developed allergy-related asthma and was told that she needed to rehome Dilly. She is now back with me. Dilly was pretty depressed when she got here--I think she enjoyed being the only cat.

She is a talkative, friendly, well behaved girl, though she isn't a big cuddler or lap sitter. She comes to her name and solicits attention, but doesn't necessarily, sleep with you (or at least she doesn't with us). She used to get along well with the other cats in the house, and she is living with her daughter, though she may be a little spoiled now that she was an only cat for a year. Her former owner is willing to be contacted if you want to know more about her in her former home.

| | |
| --- | --- |
| | |
| | |
| --- | --- |
| | |

Updated 18 Sept 2013